This store requires javascript to be enabled for some features to work correctly.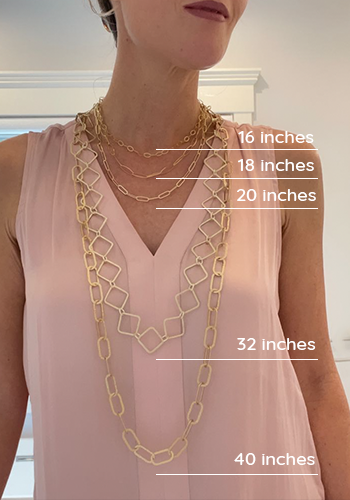 OUR SIZING CHART
NECKLACES SIZES
16" Necklace - Falls perfectly around the base of the neck like a collar. On a petite woman it will hit your collarbone while for plus size women it might feel more like a choker.
18" Necklace -  A common choice for women that will fall just below the throat at the collarbone. This necklace size is popular for adding pendants which will hang over a crew neck. The model in this photo is a petite build and prefers the 16" necklace, whereas someone with a broader build might prefer 18".
20" Necklace - Will fall a few inches below the collarbone and allow a little more breathing room. Perfect for a low, plunging neckline or if you want to wear it over a turtleneck.
24" and 28" Necklace - Just to give you a bit more length and flexibility in your chain. And because we aim to please! No need to open the clasp, just put on over your head.
32" and 40" Necklace - This is not a standard necklace length, but we think it should be! Both sizes are perfect to wrapped around twice or wear single. 
BRACELET SIZES
Our Rosary bracelets are about 7 inches for small and 7.5 inches for medium. 
Our thicker chain bracelets are about 7.5" for small and 7.9" for medium. This depends on the thickness of the chain. The thicker the chain, the slightly larger it needs to be.